Alla Prima Studio offers classes to beginning, intermediate and advanced students.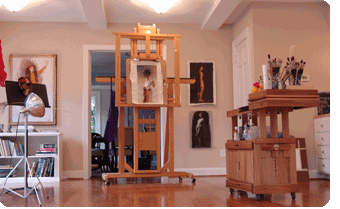 Click here to review our current workshops.
Students begin with a monochromatic underpainting, incorporating the concepts of value and edges. When appropriate, color is introduced. This includes discussion of color theory, color mixing and the ability to create three-dimensional forms by using varying intensity of pigment. With experience and instruction, students will ultimately create completed pieces of art that express their own unique style.
The curriculum includes basic still life, landscape, study of master works and ultimately the human figure. If you are interested in registering for a course, download, print, and complete the Registration Form and mail it back to Alla Prima Studio. Contact Haleh for more information.
©2010 Haleh Moddasser and Alla Prima Studio